Our People
Christina
Fatourou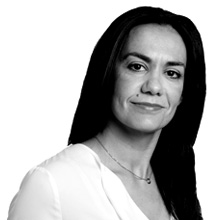 GENERAL MANAGER - V+O GREECE
Christina joined V+O in 2001. She has 14 years of experience working mostly in the PR sector. Today she jointly holds the position of General Manager at V+O GREECE, with Tonia Gogou, overseeing the operation and development of the company.
As a Client Service Director she has been a team player leading a group of 10 people in the implementation of challenging PR campaigns and has been responsible among others for over than 30 clients, including Health, IT/Telco & Brand communication, such as BDF, Amgen, GSK, Pharmathen, Smith & Nephew, Roche Hellas, Wind Hellas, Hewlett Packard, Google and HTC.

Throughout her career Christina has developed significant skills in realizing and coordinating major projects such as mergers and acquisitions, rebranding campaigns, media relations as well as, crisis and issues management.
She holds a degree in Social Religion Studies from the University of Athens. She is fluent in English.
To contact Christina:
+30 210 72 49 000
sign up for our newsletter