Our People
George
Gerardis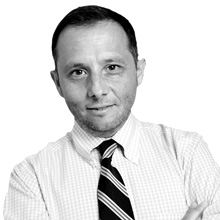 CFO - V+O GROUP
George is a highly experienced financial professional, with over 12 years of senior-level involvement in multiple projects for multinational and Greek corporations across several different sectors and sizes.

He began his career as a Senior Analyst in the corporate finance division of one of the top brokerage firms in Greece, PIRAEUS SECURITIES, and moved on to KANTOR MANAGEMENT CONSULTANTS, one of the biggest management consulting companies in Greece, where he gained substantial experience in strategic and business planning, corporate and financial due diligence, feasibility studies, company valuations, cost restructuring and turnaround plans.

During 2006-2013 he focused on providing actionable strategic advice to leading corporations in the FMCG industry such as YIOTIS and CRETA FARMS, which included managing and evaluating entry strategies to international markets, designing corporate transactions and handling investor relations. He returned to KANTOR MANAGEMENT CONSULTANTS in 2013 where he held the position of Group CFO.

George holds an MBA from Boston College and a BSc. from the American College of Greece, Deree College.
To contact George:
+30 210 72 49 000
sign up for our newsletter