Our People
Yiannis
Olympios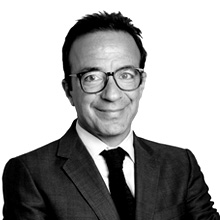 VICE PRESIDENT AND CEO - V+O GROUP
Yiannis Olympios is the Vice-President and CEO of V+O GROUP. Yiannis is actively engaged in the overall communication strategy and consulting of major international and local businesses.
He worked from 1990 to 1993 for the Hellenic Ministry of Foreign Affairs as the Ministry's Spokesperson for the foreign press. For the last 20 years he specializes in privatizations, issues management and large-scale transactions and has been actively engaged in nearly all major foreign investment projects in Greece.
He holds a Master of Arts degree in Comparative Development, focusing on the role of scenarios in policy planning, from Bristol University (UK).
He is an active member of Greece's leading think tanks, such as the Institute of Democracy "Constantinos Karamanlis" and the "Center for Political Research".
He is fluent in English and French.
sign up for our newsletter