Our People
Teti
Kanellopoulou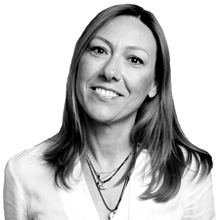 CEO - V+O GROUP GREECE
Teti is the CEO of V+O's operation in Greece and has full responsibility of management, coordination and development for V+O Greece and its subsidiaries, Curious Ahead and Unlimited Creativity.

With 20 years of solid experience in corporate communication, financial communication and crisis management she has handled major communication projects for clients, such as Coca-Cola HBC Greece, S&B Industrial Minerals, Athens International Airport, Hilton International, Credit Agricole, Societe Generale, Vivartia, AGET Heracles.
Following her extensive experience in Crisis Management, involving management change, downsizing and restructuring projects, Teti is the Crisis Management Expert of V+O, and is also responsible for the organization and implementation of media training and crisis training seminars for top management of major clients.
She holds a degree from the Athens University of Economics and Business with a focus on Management & Business Administration and a Master of Arts in Marketing Communication and Advertising from Emerson College in Boston, USA.
To contact Teti:
+30 210 72 49 000
sign up for our newsletter