A 360 experiential media event, AEGEAN AIRLINES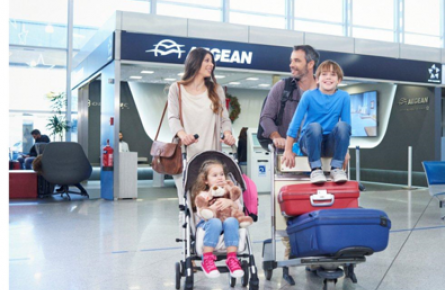 Challenge
ΑEGEAN For Families bundle of services is the result of several months of insightful research and study on how modern Greek families travel. They are exclusively designed to make family travel by airplane a pleasurable, smooth and entertaining experience for all family members from planning to completion. They prove and illustrate AEGEAN's commitment to providing customized solutions that satisfy every passenger's needs.
Project Scope
The selected venue was Technopolis in Gazi and was designed to create a custom "on the ground" airport setting and delivering an unforgettable and pleasurable day to remember!
The e-invitation addressed to Media was the "ticket" to an unexpected AEGEAN experience: a gif showing an AEGEAN airplane taking-off and inviting our guests to attend the event in the center of Athens.
By the time the guests arrived at the venue, they were welcomed by Aegean air-hostesses in an area formed like an airport's check-in area.
Afterwards, guests were led to a look-alike branded AEGEAN airport lounge with soft music and a cozy environment. A large red curtain separated the waiting area form the presentation area.
Suddenly they heard the sound of the boarding bell and an announcement informing them to proceed "onboard" for the forthcoming presentation. The curtains opened and the AEGEAN air-hostesses invited the guests to enter the presentation area which was set up like the indoor of an airplane cabinet. The team welcomed the press to this special "on the ground" flight, aiming to present them the unique AEGEAN experience.
The presentation included a highly emotional video delivering the AEGEAN brand essence, along with unexpected highlights like a cockpit flight simulation to deliver the company's marketing news in a tech oriented way.
When the presentation was completed, guests enjoyed savory & sweet treats and delightful refreshments, while listening to relaxing music.
Result
Once the event was over, some 200 attendants, carrying their brand new luggage, made Technopolis look like an airport terminal, full of happy passengers.
sign up for our newsletter