Christian Dior's Cruise 2022 - A lifetime experience in Athens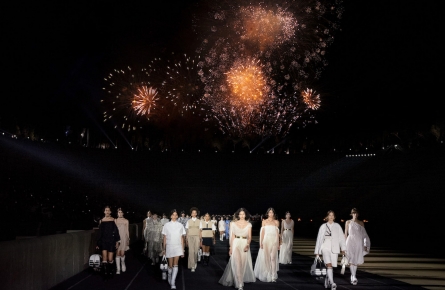 Challenge
The Dior Fashion Show in the Panathenaic Stadium was one of the most anticipated events of 2021 for Greece and the whole fashion world.
Considering also, that until then there was not an official communication for/by Dior, there was not a clear picture on the significance of the show and the other activities scheduled by the French House to honor Greece.
For this reason, we designed and implemented a strategic media relations plan and an extended, well targeted, media and PR campaign to induce interest and anticipation for the fashion show among the Greek media and showcase the significance of such a collaboration, promoting Greece and its unique heritage abroad.
Project Scope
At V+O we led the organization and coordination of all parties involved, from planning to implementation, to ensure excellent results in communicating one of the most prestigious shows taking place in Greece. To this end, we designed a strong Media Relations and PRplan, with great results and achievements.
Our plan included media communication, writing and distributing of Press Releases, customized native content, the livestreaming of the
show, as well as interviews and footage from the show for the top Greek TV channels.
Our key step was to create the perfect mix of high profile media representatives who would have the honour to attend the event, whilst managing to maintain our good relations with all media representatives who could not receive an invitation to attend the show li ve.
To this end, we separated our high profile media contacts in 3 key categories:
1. Those who were invited to a unique press breakfast with Maria Grazia Chiuri realized the morning prior to the show
2. Those who would attend the actual show and the after showgala,
3. Those who received an invitation to watch the show online
Results
The storytelling unfolded for this unique show and the publicity
generated were very positive and impressive.
We generated more than 3.000 publications in total (>1.400 clippings in Tier 1 Greek Outlets)
100 TV & Radio mentions, totally positive regarding Dior's Show, were generated, hosting the official footage, as well as Maria Grazia Chiuri quotes
14 top portals in Greece livestreamed the Fashion Show
The hostile climate shifted from negative to positive the days before and after the fashion show, while the storytelling unfolded, and the publicity generated was very impressive.
All key Greek print and online media as well as key Greek TV and radio broadcasts covered the event in a very positive way.
The positive publicity and sentiment generated coupled with the incredible interest by all key media, completely minimized the negative voices of selected media outlets.
sign up for our newsletter