Endeavor - Celebration of 10 year in Greece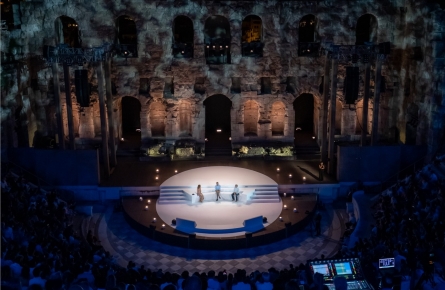 Challenge
In 2022, Endeavor celebrated its 10 years presence in Greece.
In that context, Endeavor aimed to create a one in a lifetime event in order to establish its image as a destination for the world's innovative entrepreneurs. V+O collaborated with Endeavor & the production company Yard in order to design and implement a spectacular event that became the 'talk of the town' in the business world. V+O assisted Endeavor with the creation of the event's narrative, the speeches, the publicity , as well as the flow and the invitees list.
Project Scope
Based on the key strategy and narrative, V+O supported Endeavor to implement an distinguish event at the Odeon of Herodes Atticus, where invitees from business community in Greece and Worldwide, enjoyed a once in a lifetime discussion on the power of high-impact entrepreneurship and how it transforms our local markets between the Greek Prime Minister, Kyriakos Mitsotakis in conversation with Ted Sarandos, Co-CEO and Chief Content Officer of Netflix.
In the end of the event, the Oscar awarded Adrien Brody recited a unique English-language of an abridged version of Pericles' Epitaph.
Moreover, V+O:
designed and implemented the publicity plan before, during and after the event.
consulted Endeavor to form the key speech of Mrs. Constanza Sbokou Konstantakopoulou, President of Endeavor Greece
Consulted Endeavor about the list of business and stakeholders' invitees
Results
A unique event took place at the Odeon of Herodes Atticus, on the evening of July 14th evening.
Over 3.000 participants enjoyed a unique evening.
Over 70 articles before and after the event published referring at the event.
3 TV channels covered the event with dedicated reportages.
1 radio interview @ SKAI Radio y the General Manager of Endeavor Greece, Panagiotis Karampinis.
A great amount of SoMe Posts @ LinkedIn, Twitter & FB.
sign up for our newsletter