MYTILINEOS: Paving The Way to A Greener Industry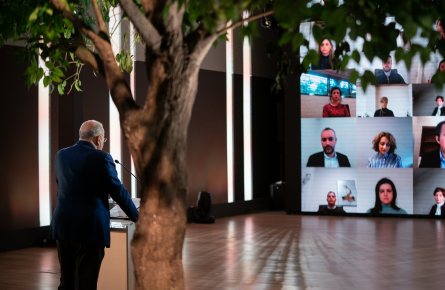 Challenge
MYTILINEOS, a leading global industrial and energy company with a strong presence in all five continents, wanted to present its sustainability strategy, embedded in its corporate & business DNA along its ambitious ESG targeting for the coming years. MYTILINEOS aspiration is to lead the way towards a greener and more environmentally friendly industry.
Our key challenge was to move away from tactical communication and, boldly, get across that sustainability is a strategic priority interlinked with vision and clear decision making.
V+O Greece addressed the opportunity of MYTILINEOS to lead the global discussion on sustainability, by designing and implementing a holistic strategic communications plan, aiming to leverage on the 'future defining' corporate momentum of the company and cascade its new sustainability strategy & messaging to all audiences involved.
Project Scope
The new sustainability strategy & messaging of MYTILINEOS had to be spread to all company's stakeholders, through different communication platforms & tools.
In order to successfully address this challenge, V+O Greece (V+O Communication, Unlimited Creativity and Curious Ahead) designed and implemented a multilevel Corporate Communications plan addressing all stakeholders. We managed to built-up corporate extroversion, engagement, and showcase MYTILINEOS sustainability strategy and priorities.
Our strategic priority was to turn MYTILINEOS ESG commitment into a communication platform and an opportunity for dialogue and action. A corporate comms umbrella, addressing different expectations and aspirations, but with a clear vision & mission.
MYTILINEOS corporate commitment was unfolded on two levels (internally / externally), aiming to introduce company's new strategic priorities and purpose.
The strategic component was the implementation of the first MYTILINEOS summit, the virtual Summit "NetZeroAction. From challenge to opportunity for accelerated & sustainable value creation". The corporate commitment was announced in a hybrid internal event, while on the same day the hybrid MYTILINEOS summit took place. The following days, a corporate reputation campaign kicked off ,in Greek and international Media, so as to build extroversion, leadership, gain visibility and recognition and frame the new era strategy and narrative of the company.
Results
We introduced a compelling corporate narrative, a creative advertising campaign, an impactful digital presence and extensive publicity
We tackled the Covid-19 challenge and organized two high profile virtual events in MYTILINEOS headquarters in partnership with Yard Productions
We generated impactful publicity
We achieved engagement with all target audiences
Approximately 4.000 employees were brought together from 3 different sites in Greece and 10 countries all over the world
The first ever Virtual ESG Summit initiated by a Greek company and during adverse conditions imposed by the Covid-19 pandemic
Joined by more than 20 eminent speakers
Video views in total for all 6 LIVE videos (external and internal): 49Κ
Post engagements in total across channels: 4,933
Total video views for internal videos: 1,071
Impressions in total across channels: 9.3M
Link clicks in total across channels: 36K
Communication Plan's Results were impressive and exceeded any initial expectations:
More than 340 stories (national, local & international digital, TV and print Media) with almost 1 million in PR Value
More than 270 of the stories in online Media, both national and international, and more than 60 stories in print.6 Reportages on tier-1 national TV channels
The specific corporate initiative was distinguished for its organization, with the following PR awards: 3 Event Awards 2021 , 1 Ermis Award 2021
sign up for our newsletter