A neo era for AEGEAN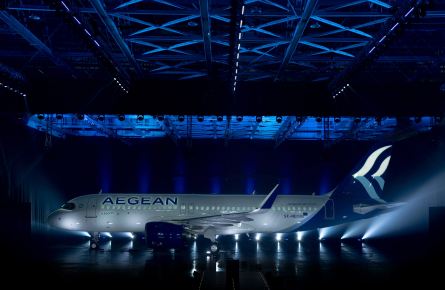 Challenge
​
AEGEAN Airlines begun its new 'NEO' era, by making in 2018 the largest private investment in the Greek business sector which created new growth prospects for the company, the local tourism industry and Greece's tourism footprint, at large. The investment on new generation Airbus A320neo aircraft, valued at 5 billion USD at list prices, aimed to offer upgraded services to passengers and the ability to reach longer range destinations. Moreover, the new generation engines contribute significantly to enhancing the company's competitiveness due to fuel savings and reduced carbon emissions.
The investment, which marked the company's future growth and development, was announced through an official signing agreement ceremony in 2018. In 2020 AEGEAN's investment was commemorated with the arrival of the first 3 new generation Airbus A320neo and the revelation of its new brand identity.
V+O, as being AEGEANs long-lasting communication consultant, handled the corporate comms strategy of the project, from the MoU official signing of the purchase agreement by AEGEAN with Airbus, till the reveal ceremony in 2020. The key challenge for V+O was to take advantage and promote AEGEAN's corporate momentum. In addition, the agency had to designed, implement, coordinate and produce (along with its partners) the key event of the "NEO" era of AEGEAN, that showcased the strategic importance and the added value of the investment, towards the company's internal & external stakeholders (employees, shareholders, partners etc).
Project Scope
In order to effectively communicate AEGEAN's milestone to core audiences and highlight the significance of the investment, V+O used the arrival of the new Airbus A320neo as the opportunity to present both the aircraft and the new brand identity in a landmark event, aiming to: a/ Build anticipation, b/ Organize a large-scale, tech savvy and real time broadcasted event, for both internal and external audiences and, c/ Create a dynamic Post- event communication of the new era narrative
Create a solid and consistent narrative about AEGEAN's 'NEO' era
Communicate and cascade the refreshed brand identity in a way that would not be perceived as change but rather as an evolution
Select the best timing to communicate the rebranding and connect it with key milestones such as the coming of the new Airbus A320neo fleet
Keep it under the radar and avoid spill overs
Results
Extended publicity: 800 Total publications and business stories. Additionally, we achieved representation from international Media leading to international coverage. The reveal ceremony, took over the publicity, becoming the national talk of the day as many tuned in to watch it live and becoming part of this milestone moment
600 high level stakeholders attended the event, among them the Greek PM, members of the Greek Cabinet, business, aviation and tourism community, Greek and international Media, partners, operators, internal audiences
3.000+ SoMe references in high impact Media and user accounts
sign up for our newsletter